pick of the barn
Congratulations to Mallory Bowers on winning "Pick of the Barn" for the 2017 All-American Ewe Show on "Genevieve," Bowers 1620! Read more about Mallory and the Champion Southdown Ewe below.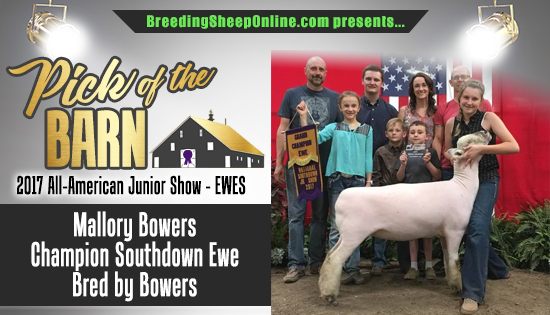 Mallory Bowers, age 13 of Mentone, Indiana, exhibited the Champion Southdown Ewe at the 2017 All American Junior Show, which was also the 2017 National Junior Southdown Show. Mallory is the daughter of Kraig Bowers and Jody Titus. Mallory has a flock of 40 Southdown ewes that are owned in partnership with her brother Brayden, grandpa, Dave Bowers, grandma, Pat Bowers, aunt and uncle, Kelli and Tim Hoeflinger, and cousins, Layne and Drew Hoeflinger. Bowers Southdowns is also assisted by assistant flock shepherd, Charles Tucker.
Bowers Southdowns offers ewes, rams and market lambs through online sales at Show Stock Planet each spring, as well as offering private treaty sales through their facebook page. Mallory is an integral of the sheep operation, assisting in lambing, breeding, marketing, evaluation, and general care of the sheep.
The ewe exhibited by Mallory, Bowers 1620 (Genevieve), was bred by Bowers Southdowns. She was sired by Forsee 260 and dammed by Oldenburg 3184. As a lamb, Bowers 1620 won the March ewe lamb class at NAILE Junior Show and Indiana State Fair, as well as finishing 2nd at the 2016 All American Junior Show. As a yearling, she was also recently named Grand Champion at the Indiana Southdown Association Show. Her dam, Oldenburg 3184, also enjoyed a successful show career, being named Champion Southdown Ewe at the Ohio State Fair Open Show in 2014.
When Mallory is not working with her sheep she enjoys playing volleyball and basketball. Additionally she shows pigs, competes on a livestock judging team, and competes in FFA career development events with Tippecanoe Valley FFA.
The Bowers Family would like to thank Breeding Sheep Online for this recognition and everyone who voted for Genevieve. In addition we would like to thank fellow breeders who have helped over the last 5 years as we've started our Southdown venture.
Congratulations to Tinleigh Spoonster on winning "Pick of the Barn" for the 2017 All-American Ram Show on "Insight," Baa Baa Acres 236! Read more about Tinleigh and the Champion Hampshire Ram below.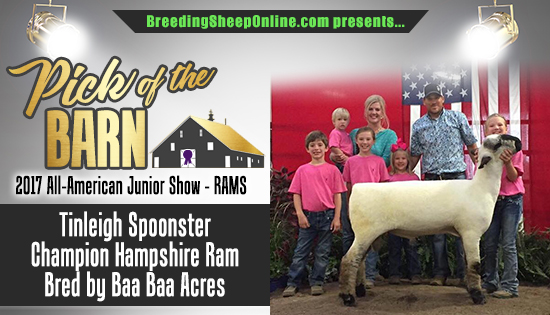 Tinleigh Spoonster, age 9 of Eolia, Missouri exhibited the Champion Hampshire Ram at the 2017 All American Junior Show. Tinleigh is the daughter of Bobby and Jessica Spoonster. Along with her 4 younger siblings, Charleigh, Trey, Paisleigh and Tate, the Spoonster children take a very active role in the family sheep project that consists of 25 Hampshire ewes. Along with showing her Hampshire breeding sheep, Tinleigh enjoys exhibiting market lambs at her county and state fairs.
Each year Spoonster Hampshires offer a number of sheep for sale through online and consignment sales. At just 9 years old, Tinleigh oversees the picture taking process of the show and sale sheep. Sometimes she is on the head of the sheep, or other times she is behind the camera taking the picture and telling her holder what foot adjustments need to be made.
When Tinleigh is not showing sheep, she enjoys playing sports, especially basketball and softball.
The ram Tinleigh exhibited was Baa Baa Acres 236 Insight, the 1st place Fitted January Ram Lamb. The ram was bred by Baa Baa Acres, the Anderson Family of Juneau, WI. Insight is sired by Held 15-1647 and dammed by Baa Baa Acres 119. Insight is the full brother to Baa Baa Acres 219, the first place fitted January ram at the 2016 NAILE. One-half interest and show rights were sold to Spoonster Hampshires this spring.
The Spoonster family would like to thank Breeding Sheep Online for this amazing honor and those who voted for Insight. In addition, a big thanks goes out to Brad Payne, Jonah Lasater, Rod and Terry Anderson and Skip and Kelli Anderson for all their help in making this possible.