featured breeders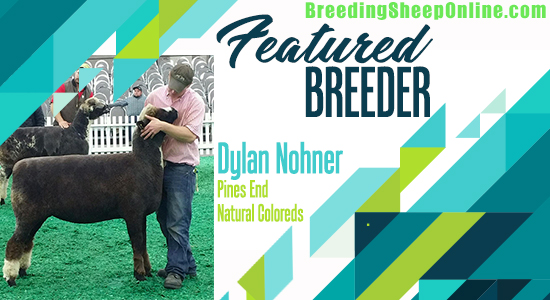 Give us an overview of your family and operation.
I recently moved back to my home farm in Watkins, Minnesota where the sheep dream first began. Pines End Natural Coloreds is on a 400 acre farm, where we currently have 65 Natural Colored ewes and 100 commercial ewes and growing. My brother Jerrod and his wife Jodee also run 20 wether style ewes. We crop farm corn and beans and quite a bit of hay. I have two kids - Jerome, 6, and Mikella, 3, and we're excited to get them started showing and raising sheep too. I do custom fitting throughout the year, and the farm is also home to Pines End Taxidermy.
What motivated you to get into raising sheep in the first place?
My dad had a commercial Polypay flock and I grew up around them. I started showing young in 4-H and had a few inspirational people in my life that were kind enough to help get me going in the registered sheep world. I started with Dorsets in 1999 and got Natural Coloreds in 2007.
When you started in Natural Coloreds, what were your foundation bloodlines?
I started with a group of white Rambouillet ewes bred to a black Merlau ram. I bought a Homestead ewe and a Gehring ewe at Sedalia, and then three ewes privately from Tor Sorensen at Southwest Sheep Company. The Southwest ewes really turned into the foundation of Pines End - I bred them to "Payback" (a Homestead buck) and it really worked.
What is the key to your success for keeping your flock a progressive set through the years?
The first thing that comes to mind is not being afraid to try different things and different rams. People that know me would agree that I keep a lot of rams around, and that to me is the most progressive way to move forward - give yourself several options to use.
What buck do you contribute your most success to and what were his bloodlines?
A Southwest Sheep Co. ram named "Maybuck." He was out of a Waddington ram named "Lightning." We never got a bad lamb out of him. I didn't hurt that he was black dominant and we never had any white lambs from him. We owned him with Wolf Bros. from Ohio. In his short time that he was alive, he produced many stud rams and stud ewes that I feel moved the breed forward.
What ewe do you consider to be your most successful, and why?
"Dakota Sunrise." She was a "Rock 'N Rolla" daughter out of a "Payback" daughter. She had a decent show career but her productivity in the lambing barn outweighed everything else. She is the mother of "Triple H," my Champion Ram from Louisville in 2015 who made the top 4 in the supreme drive. She also dammed "Princess" - the National Champion Sale Ewe at the May sale in 2016. I've sold a lot of dollars worth of sheep out of her, plus retained several daughters. I believe she was the first Natural Colored ewe in the United States to go through a flush program.
I'll give an honorable mention to "Diamond," who was the best "Payback" daughter we ever had born. Last year her daughter "Diamond Head" had a lot of success for Thomas Vandeventer in Illinois.
What do you consider your very best promotional tool?
Selling sheep that go on to have success for others is the best promotion that you can ask for. If your genetics are working, word will travel beyond anything I can do personally. I have also had a lot of fun with our annual online sale and have been impressed with the number of different people we can reach that way.
Of all your successes which do you treasure the most?
"Triple H" being Champion Ram and in the top 4 in the supreme drive at Louisville was awesome. Another exciting one that comes to mind was winning Supreme Ram Overall at Keystone in 2016 because Katherine and I did it together. I've been blessed to have several Louisville wins and it's always fun to get some banners on the green shavings. In 2016 we had Champion & Reserve Ram, plus Champion Ewe - that's hard to beat.
What is a goal you and your family have for your operation?
To bring my kids up into the sheep world and give them the opportunity to meet the great people in this industry and experience what I have since I started. I hope to encourage youth in the sheep industry and support them however I can. On the sheep side of things, I just want to raise good sheep that stay competitive over the years - no matter what the trends are at the time.
What is something that really drives you to continue to work hard and make your business a success?
Seeing the next generation of youth coming up and getting excited about the sheep industry.
What attribute do you appreciate the most about being in the sheep industry?
The people, the friends that I've helped along the way, and lifetime friends across the country.
What is one of your biggest regrets as a breeder?
Not collecting semen on "Maybuck" before we lost him.
What is one of the best decisions you have made as a breeder?
Developing a great partnership with Wolf Brothers has strengthened my breeding program tremendously. In that partnership, we've purchased several rams together and had the opportunity to purchase together both the Homestead flock and the SWSC flock.
What is one of your best investments?
The SWSC flock when Tor sold out.
Besides showing and raising sheep, what does your family like to do?
Hunt! Hunting runs deep in our family and we take a lot of pride in managing our land for white tailed deer. I like to go to concerts with Katherine when time permits also.
What is your favorite livestock show? Why?
I guess I have to go with the green shavings. It's where the most elite sheep come to show and it's the pinnacle of our industry.
Favorite place to eat?
McDonald's, of course. If we're going a little classier it's Carthage Steak House in South Dakota.
Favorite quote?
Treat other people the way you would like to be treated. Matthew 7:12 is tattooed on my arm.
Favorite place to vacation?
My deer stand.
What's on your music playlist right now?
Blackhawk, Old Crow Medicine Show, Corb Lund, Reckless Kelly, and Meghan Trainor